CANCELLED FOR 2021!
We are Sorry to announce the 2021 4th of July Parade & Celebration will not take place this year!
NOTICE!
All parade participants MUST complete an application to participate in the parade.

We look forward to our 2022 Afton Parade Sponsors
We look forward to selecting our 2022 Grand Marshal(s)
-->
Parade Participant Application
4th of July Vendor Booth
*All fields are required*
Parking / Shuttle / Trolleys
Free Off-site Parking and a free shuttle bus will run from the Lakeland Plaza parking lot to Afton City Hall starting at 10:00AM and edning at 3:00PM. The shuttle bus will take a break during the parade.
SHUTTLE BUS will patrol the Coulee Road (Co. Rd. 21) looking for passengers making that long walk from their parking spot. The bus will run from 45th street to River Road. Then pick up the Trolley to your favorite viewing spot.
MORE SHUTTLES – this one looping from Afton Blvd. Court to the Museum picking up passengers parked along Afton Blvd. Once again, when you arrive in the Village pick up a ride on the Trolley.
TROLLEYS— FREE trolley rides within the Village of Afton. Runs the length of Afton's Main street (Afton City Hall to River road) from 10: 00 til 3:00
NO PARKING —Afton's Main Street is NO PARKING during the parade
PARKING — along roads leading into and out of Afton only
ROAD CLOSURES — all roads into and out of Afton close at 12:15 PM and remain closed until the parade has completed its route (approximately 2:00 PM).
SHUTTLE BUS RIDES - from 10:00 til 3:00. See offsite map link on Contact page
Contact Us
Afton Parade Committee
A Non-Profit Corp.
14616 Afton Blvd. South
Afton, Mn 55001
612-720-6478
info@aftonparade.com
Volunteers Needed
We need volunteers
to help direct traffic.
If you can help please
call or email us.
612-720-6478
info@aftonparade.com
Sponsors/Donations
Use Paypal to donate to the
parade or to complete your
sponsorship responsibility.

Parade Lineup Area / Afton Marina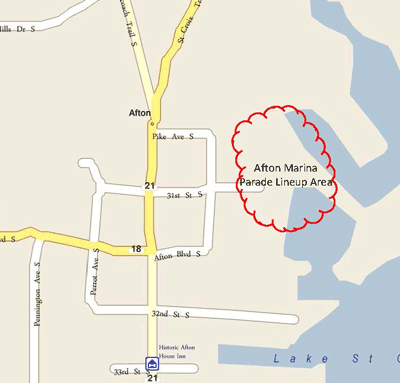 Offsite Parking & free Shuttle Bus Ride
(370 St. Croix Trail South, Lakeland, MN)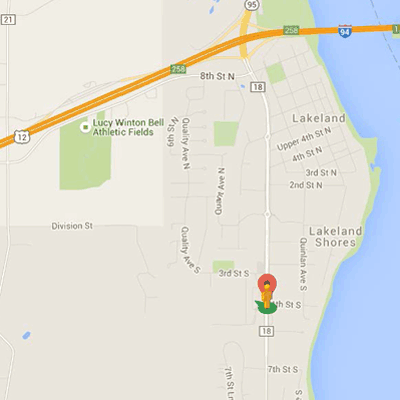 Parking / No Parking Zones